You can make a difference to a child's life
Many children and families in Ukraine are struggling to scrape a living. Poverty, domestic misery,  and desperation are disheartening.
The war in Eastern Ukraine is continuing…
Many families with children have fled from their homes in the war zone. We help refugee children who have come to our community. Not everyone has managed to flee…
Your help is needed
Without your help, a child can end up in an institution.
With your help, we can save a child from being taken from home and placed in an institutional orphanage.
Your help gives a child food, clothes, secured school attendance and much else. It is not just money.
"I know what it is to live in need. My grandmother and I collected empty bottles and cans to have money for food. In the end, I was taken into a government institution. Large dormitories, no toys or clothes of my own, no good-night hug."

I want to do all I can to save a child from going through what I went through" says Katya.
She is one of those who were helped on time, and she is helping others now. Katya manages the relief work of Children's Embassy in the villages.
With the love of our Heavenly Father, we want to bring children and families new hope of a better future – a life worth living. Faith in our Living God is the cornerstone of our work.
We welcome you to Children's Embassy, to help children in Ukraine. We are one big family, and together, we will make a difference.
news
Thank You for the school clothes.
Thank you for the great joy! A short video
---
The village Piski is now on the world map!
Now we finally have a stable internet connection.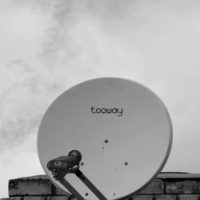 With the new Ka-band which has been developed to both receive and send high-speed data communications so you need no other connection than you get with the dish. Both up and downstream communication takes place with a strong main dish that gives you Internet as it should be in 2016. Fast speed, a lot of data, and easy to connect and use!
This is now also in Ukraine, and was installed today, 21 Sept. Now we can rejoice.
Boaz
---
our projects
Would you like to join us? Would you like to make a difference? Become a sponsor today – choose one of our projects.